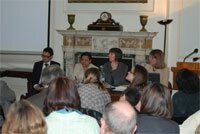 Over 100 people attended a packed seminar on Thursday April 22 at London's Canning House on ALBA: Building a New Latin America with speakers including representatives of Bolivia, Cuba, Nicaragua and Venezuela. The seminar was organised as part of the ongoing work of SERTUC, the Cuba Solidarity Campaign and the Venezuela Solidarity Campaign – supported by OH Parsons and a number of trade unions – in raising awareness of the tremendous changes sweeping Latin America.
Putting People Before Profit
The first session, chaired by Steve Hart, Unite London and Eastern Region Secretary, was addressed by H.E. Maria Beatriz Souviron, Ambassador of Bolivia and H.E.René Mujica Cantelar, Ambassador of Cuba. Steve explained how ALBA (the Bolivarian Alternative for the Peoples of the Americas) is a progressive regional bloc which puts people and social development before profit and free trade in Latin America and was an "inspiration" to thousands of British trade unionists and progressives engaged in the struggle for a better world. Beatriz thanked the organisers for arranging such a crucial and timely event, before outlining what ALBA meant to the people of Bolivia as they transformed their country, arguing that it was a contrast to the previous integration models of "inter-imperialist divisions and competition." In contrast, ALBA was based on the principles of "solidarity and co-operation," meaning that the vast natural resources of Latin America and the Caribbean were being used to benefit of the majority of people for the first time.

Closer and progressive regional co-operation and integration was also increasingly necessary in tackling key issues and developments internationally, most notably around climate change. The next contribution further developed many of these key points, with René explaining that ALBA "aims to promote social, economic and cultural" development, rather than "big financial and commercial interests" as proposals such as the Free Trade Area of the Americas had done. Furthermore, even though ALBA was very young, it was already having practical benefits for 100,000s of people, not least in the use of Cuban teaching methods to eradicate illiteracy in countries such as Venezuela and Bolivia, and the development of a new network of universities across the member countries.
Working for Peace and Justice
The next session looked at ALBA in a global and regional context, including the Obama administration's response to the ongoing challenges to US hegemony in the region, which has been more negative than many had hoped for. The session was opened by TUC Deputy General Secretary Frances O'Grady who contrasted the experience facing progressives and trade unionists in the ALBA countries with the repression and reaction in Colombia, and now, Honduras. Grace Livingstone, author of America's Backyard, then gave a detailed analysis of the new US militarisation of Latin America, and in particular the significance of the coup in Honduras and the recent Colombia-USA military agreement. These developments were of grave concern to all the ALBA countries, especially Venezuela due to its vast oil reserves. Opposition to this militarisation was widespread in the region however, with Brazil and Argentina issuing a strong joint statement expressing their concerns regarding threats to national sovereignty.

Alvaro Sanchez, representing the Venezuelan Embassy, explained how Venezuela's commitment to ALBA and regional integration was a core part of the philosophy of the Chavez-led government, which rejected US domination in favour of a multi-polar world. This approach was enabling the voice of Latin America's poor to be heard more loudly in the world, but could not be accepted by the US, as was shown by its increased funding for Venezuela's undemocratic opposition and reaction to the coup in Honduras last year. The final speaker was Guisell Morales Echaverry, the new Charge D'Affaires of Nicaragua, who made an inspiring address which discussed a wide range of themes and issues including climate change, the historic role of US intervention in the region and the need to work for peaceful co-existence internationally. She ended by summing up the key message of the day, saying, unlike previous international blocs, "ALBA is built by liberators not conquerors" in order to build a new world. The new magazine Adelante ! was distributed. The magazine has been produced by CSC, VSC, and SERTUC to highlight the work being done across the different campaigns and trade unions in the UK in solidarity with Cuba, Venezuela and progressive movements in Latin America. More details about Adelante! and the development of the Latin America Conference 2010 and further events  can be found at
www.latinamerica2010.org.uk