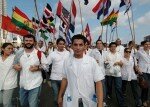 Speakers include:

Alberto Juantorena, Cuban Deputy Sports Minister and former Olympic 400m & 800m gold medal winner
Mirta Rodriguez Perez, Irma Sehwerert Mileham and Magali Llort Ruiz, mothers of the Miami 5
Egle Sanchez, Venezuelan trade union leader
Guissell Morales-Echaverry, Nicaraguan Embassy
Professor Ernesto Laclau, world renowned academic
Frances O'Grady, TUC Deputy General Secretary
Richard Gott, Writer
Billy Hayes, CWU General Secretary
Victoria Brittain, Writer
Bob Crow, RMT General Secretary
Jeremy Corbyn MP
Sally Hunt, UCU General Secretary
Plus speakers and eyewitness reports from Colombia, Honduras, Bolivia, Guatemala, Mexico and across the continent.
Led by countries such as Cuba, Venezuela, Nicaragua and Bolivia, progressive governments in Latin America have transformed the lives of millions in recent years, extending health and education for the first time and enhancing social equality.
As part of ALBA, the Bolivarian Alliance for the Americas, these countries are joining together to forge a better and more just society for people across the region.
The conference, Latin America 2011, is open to all. Come to find out first hand about the latest developments in the continent and how we can offer solidarity at this crucial time.
Saturday, 3rd December, Congress House, Great Russell Street, London.