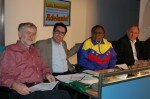 Nearly 500 students, activists, campaigners and trade unionists attended the seventh annual Latin America Conference at Congress House in December. Speakers included trade union and labour leaders from Britain – such as Frances O'Grady, Hugh Lanning, and Jeremy Corbyn MP – but  the indisputable highlights were contributions from Latin American comrades including three mothers of the Miami Five, Egle Sanchez, Venezuelan trade union leader, and Cuban Olympic legend Alberto Juantorena.
25 seminars and workshops discussed the progressive movements sweeping the continent and celebrated their political and social achievements. The conference also examined the ongoing interference of the United States in the region – both to undermine progressive governments and to fortify reactionary regimes.
Frances O'Grady, Deputy General Secretary of the TUC, welcomed delegates to Congress House and drew parallels between the historic strikes in Britain on November 30th and Latin America's long struggle for independence and sovereignty. She described the United States' attitude towards Cuba as one of "arrogance, intransigence and insecurity" and argued that – despite this adversity – Cuba remains a beacon of hope which has inspired Latin America and shown us that another world is possible.
Hugh Lanning, Deputy General Secretary of the PCS, stressed that the common enemy – both in Latin America and Britain – is the 1% that control international finance. "Borders are mere devices to control labour rights and migration. There are no borders for the exploitation of profit and capital".
Hugh thanked Latin American trade unions for their solidarity greetings on November 30th and stressed that the struggle for justice is the same throughout the world. Hugh emphasised that one of the best ways to support progressive movements in Latin America is by winning battles for social justice at home.
Jeremy Corbyn MP declared that Latin America had been used as a laboratory by Chicago School economists for the worst neo-liberal monetarist experiments and had brutally repressed all progressive regimes – but workers and indigenous peoples used that experience to build broader and stronger social movements. Jeremy urged the labour movement in Britain to learn from the values and practical skills used in Latin America to reject the doctrine of markets, privatisation and austerity.
The conference also welcomed Cuban Olympic legend Alberto Juantorena AKA 'White Lightening' who broke two world records on his way to winning the 400m and 800m at the 1976 Olympics in Montreal. The imposing Juantorena held one of his gold medals aloft and declared, "This belongs to the Cuban people, not to me. It belongs to everyone: the man who prepares the track, to my doctors, my coach my team and my Commander Fidel – but also to every single Cuban who strives on behalf of our country". 
Now a member of the International Association of Athletics Federations and Vice-President of the Cuban Sport Institute, Juantorena spoke of the egalitarian and inclusive ideals underpinning sport in Cuba, but also illustrated the debilitating effects of the cruel and inhumane US blockade. Not only has Juantorena been denied entry to America on a number of occasions, but shortages mean basic equipment such as pole vaults – which are manufactured in the US – have to be obtained at a premium through third countries. "It affects every aspect of our life – from food to medicines, to sportswear and sports equipment – everything to make us suffer in every way".    
Egle Sanchez, Venezuelan trade union leader, brought the roof off Congress House with a rip-roaring speech as she brought solidarity greetings to those public sector workers on strike in Britain, but the biggest standing ovation of the day was reserved for three brave mothers who have had to live with an incredible injustice for thirteen years. Irma Sehwerert Mileham, Magali Llort Ruiz and Mirta Rodriguez Perez are three of the mothers of the Miami Five and, speaking with great dignity and humility, they could not have been more eloquent. The three courageous women thanked the British trade union and labour movement for all the solidarity and support which they have given their families and their sons. They also spoke of the hopes and disappointments suffered in the long fight for justice and urged everyone across the world to intensify the struggle. 
Alongside speakers at the main plenary sessions were a wealth of experts, academics and activists at 25 fringe meetings and seminars. Workshops looked at a variety of themes including the Media (Mis) Representation of Latin America, Meeting the Challenge of Climate Change, Domination of the Caribbean from Slavery to Neo-Colonialism, Guantanamo Bay and the US Militarisation of Latin America, Music Across Africa and Latin America, Education and Liberation in Latin America, Women and the Struggle for Equality, US Subversion in Latin America and Developments and Progress-Contours in the New Latin America. There were also individual workshops on Cuba, Venezuela, Bolivia, Nicaragua, Colombia, Honduras and Ecuador, as well as five film screenings and stalls from associated solidarity campaigns providing up-to-date information.
Coming just days after the biggest public sector strikes for years in Britain, the Latin America Conference provided a timely reminder of what is possible if governments put people before profit. Latin America remains a bastion of hope and a practical example for all those supporting progressive change throughout the world. And the annual Latin America Conference provides an inspirational and informed forum to examine these developments and celebrate ongoing social and political achievements.
After the conference had finished, celebrations continued into the night at Bolivar Hall where the Fiesta Latina enabled delegates to enjoy the continent's vibrant and varied culture with live music and dancing. Rum cocktails and Latin American food were served, and performances from Cuban, Venezuelan and Colombian artists were weaved together with the latest Latin dance tracks.